TORPOINT'S COMMUNITY CHAMPIONS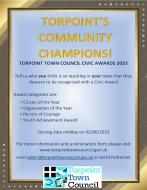 TORPOINTíS COMMUNITY CHAMPIONS!
Tell us who you think is so inspiring in your town by nominating them for a Civic Award!
Residents of Torpoint are invited to submit their nominations for the annual Civic Awards 2023. The Town Mayor will cast the deciding vote and awards will be presented at the Civic Service in July by the Town Mayor of the previous Civic Year.
There are four award categories and the nomination process is quick and simple.
The nomination form can be downloaded from the website here, by email request to admin@torpointtowncouncil.gov.uk or by picking up a paper copy from the Town Council Offices. A larger version of the poster can be seen here.
Closing date midday on 02/06/2023