History of Torpoint
The first mention of Torpoint in known records is on an old print of the harbour dated 1734. There are records dated 1745 of masons and carpenters from Torpoint repairing Antony church. Torpoint developed apace after 1750 due to the Dockyard. Expansion was driven by the need to expand the Navy. Ship building and repair required workers from the Torpoint side of the river as Plymouth at that time was a difficult place to reach directly from the Dockyard and housing was limited nearby. Other factors which speeded the development of Torpoint were the construction of Lime Kilns, wharf, a warehouse and a quay. By 1774 as well as Lime Kilns there were a ropewalk, shops and a place for spinning.
The next ten years saw even more development. Warehouses had been built and ships came in from foreign countries with their goods. Goods to and from East Cornwall were more easily shipped from the Torpoint side of the river rather than making the journey from Plymouth via Gunnislake. This development however was stopped by the customs and excise because they were not able to police this trade sufficiently.
Torpoint began to develop into a large village or small town. Fore Street had been constructed using stone from a quarry situated where Wesley Court now stands, hence the name Quarry Street.
New roads improved the local infrastructure and access to Torpoint improved with the construction of a Turnpike from Liskeard to "Tar Point Passage" going via Sheviock where a toll house was located. There was an obvious need for a reliable ferry and July 1791 saw the introduction of a regular ferry service across the Tamar to the Dockyard. The first ferries were either horse boats or foot boats. The horse boats for transporting horses, cattle and coaches were rather like catamarans for stability. The foot boats were for passengers and were rowed or sometimes sailed across.
The first steam ferry running on chains was introduced in 1834 by James Rendell who had designed ferries at Dartmouth. The simple design is still the basis of the modern ferries and has been very successful.
Notable dates around this time were:
1832 A severe outbreak of cholera in the summer.
1834 The first Rendell chain ferry.
1839 The building of the workhouse in Marine Drive
1857 The Cornwall constabulary took up duties in Torpoint.
1861 First Police Station.
1871 Weslyan School opened.
1872 Torpoint became a separate parish from Antony village.
1873 Gas lighting introduced in some buildings and shops.
1883 A huge typhoid epidemic struck the town.
1885 Another typhoid epidemic.
1894 Torpoint Parish Council first formed with Mr Joseph Shepheard as its Chairman.
1904 Town upgraded to Urban District.
1906 In May the population was estimated to be 4,200 with 704 houses.
The quality of education was boosted in 1910 with the opening of a boy's school in Albion Road with 164 boys being admitted. A week later Macey Street was opened as a girls school with 208 girls enrolled.
Very little industry was started during this time as the Dockyard attracted many Torpoint workers and provided employment. During the Great War there were few records of events but the Dockyard was no doubt at full stretch and local records show that many local men served in the forces.
Interesting events which occurred between the wars included:
1920 First cinema opened in Torpoint
1920 Ferry ownership transferred to Cornwall County Council.
1921 Oil depot came into service at Thankes.
1928 Horson Cemetery opened.
1930 Construction started for another ferry next to the first.
1933 The Joan of Arc Catholic church opened.
1933 The council purchased a chapel in York road as Council Hall and Offices.
1937 Torpoint Urban District Council Offices opened by wife of Chairman, Mrs Light.
The start of World War II heralded a great expansion of the area. H.M.S Raleigh was commissioned in February 1940 and H.M.S. Fisgard was opened in July of the same year. On July 30th bombs fell on Torpoint, fortunately in local fields. During 1941 air raids destroyed 116 out of 918 houses, and over 700 were damaged. During April 1941 Albion school was damaged as were two ferries. The oil tanks at Thankes were hit and burned for four days. The most distressing event was a direct hit on a shelter in H.M.S. Raleigh killing 66 Naval Ratings and Engineers. Torpoint was a training area and embarkation point for thousands of American troops bound for the D-Day landings.
With the coming of peace in 1945 the town began to be reconstructed. Prefabs were built in North Road and the building of the Hamoaze and Cremyll estates began in 1945/6 and the Queens Park estate in 1952/3. Subsequently many blocks of flats were constructed. In 1962 the old workhouse was demolished to make way for the Marine Drive flats initially for Naval Families.
More recent dates of note are:
1963 Opening of new Secondary School.
1969 The gasworks in Rendell Park closed.
1974 Torpoint Urban Council superseded by Caradon District Council, probably putting the town back to a similar position as it was in 1872. Cllr Ron Widdecombe was its first Mayor.
1975 The Millvale, Great Park and Borough Park estates were planned and begun.
1997 HMS Raleigh was granted The Freedom of Torpoint and was presented by The Mayor of Torpoint Cllr Mike Pearn, MBE
In recent years H.M.S.Fisgard has closed and become a business estate. This is still in development. The role of H.M.S. Raleigh as a training establishment has increased significantly. The area around the old town is now completely surrounded by commercially and privately funded housing developments.
There has been a significant change in work patterns as the Dockyard has reduced in importance as an employer during the years since the war. The population of Torpoint and surrounding area is now approximately 10,000 however and many find employment in Plymouth. The town is consequently one of the larger towns of Cornwall, yet has little more control over its destiny as it did in 1872!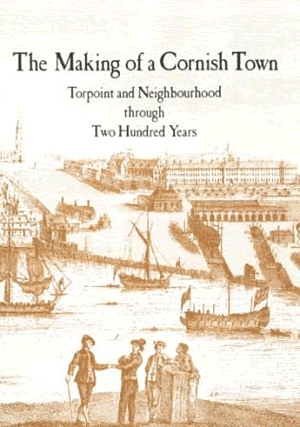 Torpoint Archives - Self-Supporting Charity 1043650
Run entirely by volunteers - Telephone No. 07530976981
Council Chambers, 1-3 Buller Road, Torpoint, Cornwall PL11 2LD
Opening Times: Tuesday 2 - 4 pm. Friday 10am - 12noon and 2 - 4pm.
We are here to help anyone wishing to research local and family history. We are able to research Torpoint records for persons who are unable to attend the Archives for a small donation towards our funds. We are grateful to receive photographs either as a gift or for copying and return or any other items of the Towns history.
Come and join with our activities to preserve Torpoint's History, if you would like to help in anyway with The Archives either Researching, Oral, History or interviewing, You will be most Welcome or just pop in and see what we have. You could be surprised.
Admission Free. Children under 14 must be accompanied
Books for Sale
Tacky's Tugs
W.J. Reynolds Ltd of Torpoint
By Captain Stephen Carter.

Rendel's Floating Bridges
By Alan Kittridge
The Making of a Cornish Town
A Reprint of "The Making of a Cornish Town" (Torpoint Neighbourhood through Two Hundred Years). Is available from The Torpoint Archives, The Library and Torpoint Town Council Offices priced at £9.99p