Notice of Polling Districts and Polling Places Review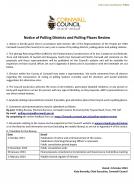 Notice of Polling Districts and Polling Places Review
1. Notice is hereby given that in accordance with Section 18C of the Representation of the People Act 1983 Cornwall Council (the Council) is to carry out a review of its polling districts, polling places and polling stations.
2. The (Acting) Returning Officer (ARO) for the Parliamentary Constituencies of St Ives, Camborne and Redruth, Truro and Falmouth, St Austell and Newquay, South East Cornwall and North Cornwall will comment on the proposals and those representations will be published on the Councilís website and will be available for inspection at those council offices set out in Appendix A below and in accordance with the timetable set out below.
3. Electors within the County of Cornwall may make a representation. We invite comments from all electors regarding the convenience of voting at polling stations currently used for elections and would welcome suggestions for alternative sites.
4. The Council would also welcome the views of all residents, particularly disabled residents, or any person or body with expertise in access for persons with any type of disability, on the proposals, AROís representations or any other related matters.
5. Anybody making representations should, if possible, give alternative places that may be used as polling places.
6. Comments and representations may be submitted as follows:
By post: Polling Review, Electoral Services, Cornwall Council, 4S County Hall, Treyew Road, Truro, TR1 3AY By
email: polling.review@cornwall.gov.uk
By completing the online feedback form at: https://letstalk.cornwall.gov.uk/polling-stations-review
7. Documents relating to the review can be inspected on the Councilís website at www.cornwall.gov.uk/review or at the libraries and information services (including the mobile library) as set out in Appendix A of this notice.
The full document and information from Cornwall Council can be viewed here.