Cornwall Council Devolution Deal Public Meeting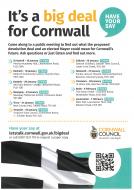 On Wednesday 25th January 2023 at 7pm Cornwall Council will be holding a public meeting in the Committee Room, Council Chambers, Torpoint.
"Come along to a public meeting to find out what the proposed devolution deal and an elected Mayor could mean for Cornwall's future. Ask questions or just listen and find out more."
Please share the poster here