Consultation on proposed extension of 30mph speed limit on A374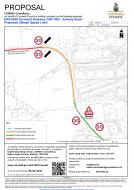 Proposed extension of 30mph speed limit on A374 Antony Road and new traffic calming measures prior to Torpoint Community College. Traffic calming measures include the provision of dragons teeth road markings and triangular school warning road marking and a new school warning sign. These proposals are to encourage lower speeds past the school and local YMCA sports centre and improve road safety entering Torpoint.
If you wish to reply on-line, you will need to register to the Consultation Finder system by clicking on 'Register Here' to access the Consultation Finder Website.
The consultation expires 03.03.2022