News Items
Showing 10 news items per page
Interested in becoming a Councillor.....?
next
Read full news item
Town Council Budget Statement 2021 - 2022
To coincide with the arrival of the latest Council Tax documents for 2021-22, the Town Council would like to share the financial plans for the forthcoming year and provide information on future projects and spending. The attached statement was compiled in December 2020 in preparation for the new Budget and we are delighted to confirm the Play Parks have now been transferred from Cornwall Council to Town Council control.
Read full news item
Postal Voting
Postal Voting - With Local Elections due to take place on 6th May 2021 you may wish to register for postal voting. You can get the relevant forms to print and complete from the Cornwall Council website or collect a hard copy from either the Town Council Offices, 1-3 Buller Road, or the Library & Community Hub. Completed forms will need to be returned to the Cornwall Council address on the form by 5pm on Tuesday 20th April in order to ensure you can vote on 6th May. You must also make sure you are registered to vote by midnight on Monday 19th April.
Read full news item
Invitation to Tender for Repairs to Ellis Monument, Sparrow Park, Torpoint
Invitation to Tender for Repairs to Ellis Monument, Sparrow Park, Torpoint
Read full news item
Torpoint Town Council - Parks devolved from Cornwall Council
Torpoint Town Council are delighted to announce the completion of the transfer of four Play Parks and the Tennis Courts in Torpoint to management by the Town Council
Read full news item
Invitation to Tender for Tennis Court Fencing, Thanckes Park Torpoint
Closing date midday Tuesday 2nd February 2021
Read full news item
Covid 19 Tiers Update from Cornwall Council
Tier requirements
Read full news item
Town Sign Community Project
Attention all budding artists and designers!
Read full news item
Torpoint Christmas Lights - BIG thank you!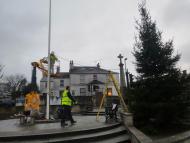 A very big thank you to everyone involved with putting up the Christmas Lights and Christmas Tree yesterday, this year the tree is sponsored by Torpoint Post Office and Shop. Thanks to the Kernow Aerials team, Declan from Armada Electrics, Tartendown Nurseries in Landrake, Local Community Markets for funding the tree lights, Shaun Huggins and his crew, Torpoint & Rame Peninsula Lions and everyone else who volunteered, and the Town Mayor for providing the refreshments! Please follow the Torpoint Virtual Christmas Lights Switch On Facebook page.
Torpoint Town Councillor -Vacancy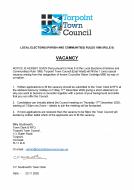 Your Town Needs You! Are you interested in your local community? Would you like to have your views heard when it comes to shaping the future of Torpoint? Why not consider becoming a Town Councillor.
Read full news item
Showing 10 news items per page