News Items
Showing 10 news items per page
Overnight Road Closure due to resurfacing work in Fore Street, Torpoint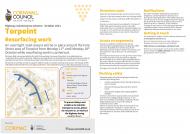 An overnight road closure will be in place around the Fore Street area of Torpoint from Monday 11th until Monday 18th October while resurfacing work is carried out. We would like to take this opportunity to thank you for your patience while these works are taking place.
Notice of conclusion of audit
Notice of conclusion of audit is here.
Read full news item
A minute's silence Monday 16 August 2021
The Town Mayor Councillor Miss Rachel Evans BEM will lead a minute's silence at Sparrow Park on Monday morning as a mark of respect to those who have lost their lives in the tragedy that has taken place in Keyham, Plymouth. The silence will take place at 11.00am, at the same time as the city of Plymouth, who are uniting to mourn and reflect on the recent devastating events.
INVITATION TO TENDER Preparation of Heritage Assessment Draft Neighbourhood Development Plan
The Town Council is seeking quotations to undertake the preparation of a Heritage Assessment of the draft Neighbourhood Development Plan. More details are available from the Town Clerk with all tender documentation uploaded here. Deadline for submission of tender is midday on Friday 13th August 2021.
Read full news item
Closure Intention - Fore Street to Tamar Street, Torpoint
Road Traffic Regulation Act 1984 S.14: Temporary Prohibition of Traffic Cornwall Council have requested to close the following road(s) to carryout works to their apparatus. Location: Fore Street to Tamar Street, Torpoint Timing: 11th October 2021 to 22nd October 2021 (19:00 to 06:00 hours) Contact: Cornwall Council - Tel: 0300 1234 222 or roadspace@cormacltd.co.uk Please click the following link for a map: https://one.network/?tm=122850604 Tel: 0300 1234 222
Read full news item
Torpoint Environmental Action Design a Logo Competition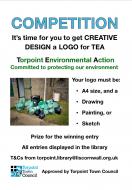 Competition to design a logo for TEA - Torpoint Environmental Action - committed to protecting our environment. Your logo must be A4 size and a drawing, painting, or a sketch. Entrants must be under 18. Full Terms and Conditions are available here.
Read full news item
Cornwall Council 'Re-Wilding' Programme
update on CC Verge Cutting Programme
Read full news item
Town Council bids a fond farewell to Marion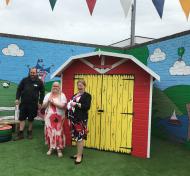 The Town Council was sad to announce the retirement of Marion Cocks as a long term employee.
Read full news item
Interested in becoming a Councillor.....?
next
Read full news item
Town Council Budget Statement 2021 - 2022
To coincide with the arrival of the latest Council Tax documents for 2021-22, the Town Council would like to share the financial plans for the forthcoming year and provide information on future projects and spending. The attached statement was compiled in December 2020 in preparation for the new Budget and we are delighted to confirm the Play Parks have now been transferred from Cornwall Council to Town Council control.
Read full news item
Showing 10 news items per page